Day 3 :
Keynote Forum
Ludwig-Maximilians-Universität München, Germany
Time : 09:30-10:10

Biography:
Olivia Merkel, is a Professor of Drug Delivery in the Department of Pharmacy at LMU Munich. From 2011 until 2016 she was an Assistant Professor of Pharmaceutics and an Associate Faculty Member of Oncology at Wayne State University and Barbara Ann Karmanos Cancer Institute in Detroit. She became a Registered Pharmacist in 2005. In 2006, she received a MS in Pharmaceutics from Martin-Luther-Universität Halle-Wittenberg, and a PhD in Pharmaceutics from Philipps-Universität Marburg in 2009. She received several awards, including an ERC Starting Grant, the Galenus Foundation Technology Award, the Wayne State College of Pharmacy Young Investigator Award, the European Federation for Pharmaceutical Science Young Pharmaceutical Investigator Award, an invitation to the Lindau Nobel Laureates Meeting, the Carl-Wilhelm-Scheele-Award by the German Pharmaceutical Society (DPhG) and the award for the best PhD thesis at Philipps-Universität Marburg. Currently Prof. Merkel's research focuses on targeted siRNA delivery in cancer and inflammatory diseases
Abstract:
Statement of the Problem: More efficient anti-inflammatory therapies with reduced side effects are needed to treat Rheumatoid arthritis (RA), a chronic and disabling autoimmune condition that affects about 1% of the population in developed countries. Even though a multitude of cell types is involved, macrophages play a central role in the pathophysiology of RA. Locally implantable, targeted, macrophage-specific RNA interference (RNAi)-based therapies could therefore revolutionize RA therapy.
Methodology: Three-layered micelles (3LM) encapsulating nucleic acids were formed from triblock copolymers of PLLA-PEI-PLLA and PLLA-PEG-PLLA in a three-step procedure. Their structure and DNA entrapment in the core was determined by TEM. Hydrodynamic diameters and zeta potentials were measured by dynamic light scattering. DNA release in neutral and acidic pH was detected by modified SYBR Gold assays. For targeting of activated macrophages, folic acid (FA) was attached to the PEG-chain of a PLLA-PEG diblock affording PLLA-PEG-FA. Subsequently, 3LM were formed with PLLA-PEG-FA in the outer polymer shell. RAW264.7 cells were activated with LPS or left resting. Primary macrophages were isolated after in vivo activation. One day later, the cells were transfected with targeted and non-targeted 3LM, and GFP expression was quantified by flow cytometry. Thermoresponsive hydrogels were obtained by stereocomplexing 3LM which contain PLLA-PEG-PLLA in the outer core with PDLA-PEG-PDLA.
Conclusion & Significance: The core-corona structure and efficient DNA entrapment in the core were confirmed by TEM. Sizes were found to be less than 200 nm, and the encapsulation efficiency of DNA was optimized. 3LM were stable at neutral pH but released DNA in an acidic environment. 3LM were efficiently targeted to activated macrophages by blending PLLA-PEG-FA in the outer layer, while non-targeted micelles or PEI polyplexes were not efficiently taken up. Stereocomplexes of 3LM formed hydrogels above their phase transition temperature and released 3LM in acidic environment that efficiently transfected primary macrophages.

Chair
Olivia Merkel
LMU Munchen, Germany
Co-Chair
Imran Saleem
Liverpool John Moores University, UK
Session Introduction
Italian Institute of Technology, Italy
Time : 10:10-10:25

Biography:
Marco Contardi is a PhD student of Smart Materials group of the Nanophysics Department of Italian Institute of Technology in Genova. He obtained a Master's degree in pharmaceutical chemistry and technology at the University of Palermo. After the graduation he began an internship period between Institute of Biophysics at National Council of Research of Palermo and Department of Physics and Chemistry of Palermo. Recently, he published 3 articles as co-author and his contribute regarded hydrogels preparation and their rheological and biological characterization and spectrofluorometric analysis of metformin.
Abstract:
Wound dressings have been evolving steadily in close conjunction with recent trends and advances in bio-based polymer processing. Dressings grew from materials or tapes that simply covered and concealed the wound, to materials that can interact with wounds so that important wound healing factors such as moisture management, active ingredient delivery and interaction with cells or proteins can be tuned or enhanced in situ. For chronic non-healing wounds or burns, for instance, one of the most important aspects is to prevent infection. As such, dressings should provide a continuous or quick release of the antiseptic agent at the wound surface to provide a long-lasting antimicrobial action in combination with maintenance of physiologically moist environment for healing. Most commercially available wound dressings are frequently opaque. Visual observation of the healing process is therefore prevented. Infection or other complications cannot be detected with opaque coverings. During inspection, dressing removal causes discomfort but also healing disruption, bleeding and granuloma formation. Transparent wound dressings are therefore highly desirable. Particularly, antiseptic loaded and adhesive free transparent wound dressings that can be easily absorbed by the wound are highly desirable. Hence, we demonstrate a facile water-based solvent casting process to incorporate a common insoluble antibiotic known as ciprofloxacin (Cipro) in its unmodified form in polyvinylpyrrolidone polymer using aqueous acetic acid solutions. Acetic acid enabled transparency, enhancement in antiseptic effect and softer films. Preliminary in vivo tests on C57BL/6J mice displayed good capacity to absorb exudate and dissolution rate of transparent antibiotic films on a model wound.
Koc University, Turkey
Time : 10:25-10:40

Biography:
Fatma Demir Duman has her expertise in design, synthesis and characterization of near-IR emitting quantum dots and gold nanoparticles and their applications as optical imaging, gene and drug delivery agents and investigation of in vitro and in vivo effects of designed nanostructures.
Abstract:
Quantum dots are semiconducting nanocrystals with diameters between 2-10 nanometers. Strong signal brightness, resistance to photo bleaching, size-tunable emission and large absorption coefficient across a wide spectral range make them powerful agent against conventional organic fluorescence dyes used in bioimaging applications. In addition to their optical imaging ability, quantum dots have multifunctional properties such as functionalization with targeting ligands for site specific delivery and loading with therapeutic drugs, peptides or oligonucleotides for drug and gene delivery applications thanks to their high surface to volume ratio. However, most of the synthesized QD's emit in the visible region and they contain heavy metals such as Cd, Pb or Hg, which have intrinsic toxicity to living organisms. Ag2S QDs developed in recent years are of great interest with their excellent biocompatibility and strong emission intensity in near infrared region (NIR) of optical spectrum, offering higher photon penetration depth, lower absorption and scattering of light by cellular components and lower auto-fluorescence in the living tissue compared to visible region. Yet, the Ag2S compositions reported are still limited to anionic and PEGylated ones. We have focused on the development of first cationic Ag2S QDs for combined action of optical imaging and gene therapy. Here, we will discuss the synthesis of PEI coated Ag2S QDs, characterization and applications. PEI coating itself usually do not provide luminescent QDs. Yet, combination with small thiolated molecules provide means to tune the emission wavelength and intensity. We will discuss the influence of 2-mercaptopropionic acid and l-cysteine contribution in this formulation. Further we will discuss the effect of the coating composition on surface charge, size and biocompatibility. Optical imaging and gene delivery performance of these particles will be demonstrated as well.
Break:
Networking and Refreshments 10:40-11:00 @ Foyer
Nanotechnology in Drug Delivery | Pharmaceutical Nanotechnology | Biomaterials in Drug Delivery
Location: London, UK
Session Introduction
University of Coimbra, Portugal
Time : 11:00-11:20

Biography:
Antonio Ribeiro is a Professor of Pharmaceutical Technology at the Faculty of Pharmacy of University of Coimbra where he managed a high international reputed research group. He has a Ph.D Degree in Pharmaceutical Development and Biopharmacy and his research has been focused on design of delivery systems for peptidic and protein drugs. He has published more than sixty peer-reviewed publications, among which several very highly cited, and he has been a keynote speaker and presented various talks all over the world. He is also an expert and consultant in intellectual property of drugs for pharmaceutical industry. He serves as an Editorial member of several publications and as a consultant for several research agencies mostly related to Diabetes and Nanotechnology.
Abstract:
Nanotechnology-based approaches towards an oral delivery of macromolecules such as insulin are increasingly therapeutic approaches towards the prevention or treatment of diabetes. Nanoencapsulation of insulin increases its protection against enzymatic degradation, and facilitates its absorption through intestinal membranes. However, the intestinal absorption of insulin nanoparticles may be related to a stimulatory reaction induced by the local mucosa immune system. Intestinal epithelium is an immune privileged organ capable of mediating immune reactions either playing a local protective role or by triggering an inflammatory response to the presence of nanoparticles. Compromising safety of insulin delivered by nanoparticles, by inadequacy or insufficiency of studies, may lead to exacerbation of the inflammatory pathways conducive to unwanted local and other severe adverse effects. Therefore, it is imperative to include comprehensive safety assays in early pre-clinical studies in order to increase the representativeness of the results and strengthen the potential of oral delivery of insulin by means of nanoparticles. Herein, focus will be put on recent reports in oral delivery of insulin nanoparticles for diabetes as well a critical analysis of the safety studies supporting their pre-clinical development. The improvement of early safety assessment by transitioning to quantitative, nanoparticle composition-immune performance relationship studies in representative models will also be elucidated. Thereby, the role and importance of rational optimization in the development of "safe by design" insulin nanoparticles will be contextualized in the field of diabetes..
University of Lisboa, Portugal
Time : 11:20-11:40

Biography:
Maria Manuela Gaspar has completed her PhD in 2005 in Pharmaceutical Technology at University of Lisbon and Post-doctoral studies at University of Dublin, Trinity College. She is a Researcher at Research Institute for Medicines, iMed.ULisboa, University of Lisbon. The area of research has been focused on "Design, development and biological evaluation of drug delivery systems for improving the therapeutic index of incorporated molecules in infectious, inflammatory and cancer animal models". She is a Co-author of numerous patents, papers in peer-reviewed journals and book chapters.
Abstract:
Statement of Problem: Clinical and preclinical studies evidence the overexpression of aquaporin (AQPs) in a high number of cancers. In this sense, the development of selective AQP inhibitors represents an alternative therapeutic strategy for these pathologies. Metallodrugs of copper and gold are potential candidates to fulfill this need. However, to promote a preferential target to tumor sites in vivo, the design and development of novel technologies based on nanostructured materials such as liposomes acting mainly as vectors for metallodrugs delivery represents a stimulating research area. Cuphen, a potent copper-based aquaporin inhibitor, was selected as metallodrug in the present work to be nanoformulated in liposomes.
Methodology: Cuphen was incorporated in liposomes by the dehydration-rehydration method. Cuphen liposomes were characterized in terms of mean size, poly dispersion index, zeta potential and encapsulation parameters using different lipid compositions. The ability of Cuphen to induce cancer cell death was evaluated by MTS and ViaCount assays against several human and mouse cell lines (A431, MNT-1, HaCaT, B16F10 and C26). The hemolytic activity of Cuphen in free and liposomal forms using EDTA-preserved peripheral human blood from voluntary donors was carried out. In vivo toxicity studies were performed in healthy mice and the therapeutic effect was evaluated in a murine melanoma xenograft model.
Findings: In vitro studies illustrated the anti-proliferative effects of Cuphen in different cancer cell lines. In vivo studies revealed no toxic effects after parenteral administration in healthy mice. A higher anti-cancer effect in a murine melanoma xenograft model in terms of survival rate was observed for the metallodrug nanoformulated in long circulating liposomes.
Conclusion: Cuphen liposomes are considered as a very attractive nano-formulation with therapeutic potential against melanoma due to their preferential extravasation and accumulation in solid tumors.
Havana University, Cuba
Time : 11:40-12:00

Biography:
Anselmo J. Otero-Gonzalez, Microbiologist, Havana University, 1978, PhD, National Centre for Scientific Research, Havana, 1987, Doctor in Science, Havana University, 2008, now is Senior Researcher, Antimicrobial Peptide lab, Faculty of Biology, Havana University, Cuba and president of National Board for PhD examination in Cuba. He is professor of Cell Engineering and Immunology. 1981: awarded with a fellowship for attending the Uppsala Separation School, Biomedical Centre University of Uppsala, Sweden. 1983: doctoral stay at the Department of Genetics, Pennsylvania University, Philadelphia, USA for monoclonal antibody generation. 1991: post-doctoral stay regarding Cell banking at the European Collection of Animal Cell Cultures, Porton Down, Salisbury. 1992: fellowship for a research project (AIDS-HIV vaccine), Swedish Centre of Disease Control, Stockholm, Sweden. 2000: awarded with a postdoctoral fellowship, David Rockefeller Centre of Latin-American Studies, Harvard School of Public Health, Harvard University, Boston, USA. 2011-12: post-doctoral stay at Harvard Medical School for characterizing the antifungal peptide Cm-p5. He also has (2008-present) collaboration with the Bioorganic Department, Leibniz Institute for Plant Biochemistry, Halle (Saale), Germany regarding antimicrobial peptide isolation, evaluation and characterization. Dr. Otero has more than 90 scientific articles in recognized journals and more that 145 abstract and presentations in scientific events.
Abstract:
Antimicrobial peptides form part of the first line of defence against pathogens for many organisms. Current treatments for fungal infections are limited by drug toxicity and pathogen resistance. Cm-p5 (SRSELIVHQRLF), a peptide derived from the marine mollusc Cenchritis muricatus (Gastropoda: Littorinidae) has a significantly increased fungistatic activity against pathogenic Candida albicans, exhibiting low toxic effects against a cultured mammalian cell line. Cm-p5 as characterized by Polarimetry of Circular Dichroism and Spectroscopy of Nuclear Magnetic Resonance. The antimicrobial activity of different types of nanoparticles has been previously demonstrated. Specifically, magnetic nanoparticles have been widely studied in biomedicine due to their physicochemical properties. The citric acid-modified manganese ferrite nanoparticles used in this study were characterized by high-resolution transmission electron microscopy, which confirmed the formation of nanocrystals of approximately 5 nm diameter. These nanoparticles were able to inhibit Candida albicans growth in vitro. However, the nanoparticles were not capable of inhibiting Gram-negative bacteria Escherichia coli or Gram-positive bacteria Staphylococcus aureus. The antifungal peptide Cm-p5 was conjugated to the modified manganese ferrite nanoparticles. The antifungal activity of the conjugated nanoparticles was higher than their bulk counterparts. This conjugate proved to be nontoxic to a macrophage cell line at concentrations that showed antimicrobial activity.
Uka Tarsadia University, India
Time : 12:00-12:20

Biography:
Pranav Shah has completed his PhD from Maharaja Sayajirao University of Baroda, India. He is an Associate Professor at Maliba Pharmacy College, Gujarat, India. He has published 16 papers in reputed journals, two book chapters and one book. He has presented several papers in national and international conferences.
Abstract:
Asenapine maleate (ASM) is a new second-generation antipsychotic approved in August 2009 by U.S FDA for the acute treatment of schizophrenia and manic or mixed episodes associated with bipolar disorder in adults. It shows poor oral bioavailability of <2% due to extensive first pass metabolism in liver. The present study was aimed at developing and characterizing solid lipid nanoparticles (SLNs) of ASM. SLNs were prepared by solvent injection method by employing compritol ATO 888 as the lipid matrix and poloxamer 188 as stabilizer. A 32 full factorial design was employed to study the influence of independent variables (amount of lipid and % surfactant) on dependent variables (particle size, and % entrapment efficiency). Optimized ASM-loaded SLNs were further studied for zeta potential, in vitro drug release and TEM. Nanoparticles were lyophilized to improve the physical stability and obtain free flowing powder. Mannitol was employed as a cryoprotectant. Lyophilized ASM-loaded SLNs were characterized using DSC and XRD. The optimized ASM-loaded SLNs exhibited mean particle size 318.5±3.2 nm; polydispersity index of 0.255; zeta potential -29.75±(-0.92) mV; entrapment efficiency 53.13±1.77%; drug release extended up to 36 hours. TEM image exhibited spherical smooth surfaced nanoparticles. Accelerated stability studies of optimized ASM-loaded SLNs and lyophilized ASM-loaded SLNs revealed its stability. The developed formulation holds promising future due to reduction in dose and dosing frequency and thus reduces dose related side effects and improved patient compliance.
Bahauddin Zakariya University, Pakistan
Time : 12:20-12:40

Biography:
Muhammad Hanif has completed his PhD from University of Karachi, Pakistan. He is the Managing Editor of Pakistan Journal of Pharmaceutical Research, a biannually published journal. He has published more than 45 papers in reputed journals and has supervised 15 MPhil and six PhD students. His speciality areas are "Formulation development of controlled release dosage forms, micro-encapsulations, hydrogels, in vitro and in vivo correlations (IVIVC), pharmacokinetic and stability studies.
Abstract:
Use of pectin in controlled release dosage form is reported in the previous literature and many dosage forms like tablets, microspheres and hydrogels were developed. Some studies reported the mucoadhesive properties of the pectin when used as drug career. In our study, we have developed thiolated pectin first by adding the thiol containing substances and then converted it into the hydrogel, having the capacity to use both lipophilic and hydrophilic drugs. Central composite rotatable design was successfully applied with the three variables and nine hydrogel formulations were planned in such a way that each three contains the difference in concentration of polymer, monomer and cross linking agent. Prepared formulations were further subjected to swelling, porosity, sol-gel fraction, cross-linked density and drug loading studies. Drug release studies were performed in USP 2 dissolution apparatus having the volume 900 ml at 370C and with 100 rpm rotation. In vitro kinetic model dependent and model independent approaches were applied to select the one best hydrogel formulation. Morphological studies like SEM, FTIR, TGA, DSC and XRD were performed to check any interaction between the polymer and drug. Prepared hydrogels were dried at room temperature first and then in oven at 450C. Maximum swelling observed was pH dependent and at 7.5 pH all formulations showed more than 100% swelling due to the presence of carboxylic acid group in the acrylic acid which has the pKa value four. Mucoadhesion in the thiolated pectin was increased as we increased the concentration of thiol glycolic acid. More than 85% release after 48 hours studies was found to be within limits. First order drug release was observed with the fickian diffusion because the n value was less than 0.45. Similar values proved that F5 formulation was the best due to its release pattern.
Zhejiang Chinese Medical University, China
Time : 12:40-13:00

Biography:
Fanzhu Li, male, doctor, professor, doctoral supervisor and postdoctoral cooperative tutor. In march 2002, Prof. Li was introduced to Zhejiang Chinese Medical University as a special talent. Now, he is the dean of college of pharmaceutical science. Prof. Li engaged in novel drug delivery system, targeting preparation, new dosage form and novel technique as well as the process of chinese medicine in vivo for a long time. At the same time, Prof. Li has established targeted drug delivery systems of brain, liver, kidney and other organs, studied new methods of administration of nasal mucosa, and first initiated a new model of the process of traditional Chinese medicine in vivo in china.
Abstract:
E​ffective targeting drug delivery system for glioma treatment is still greatly challenged by the existence of the blood-brain barrier (BBB) and the intracranial over spreading of anti-tumor drug. Herein, we presented a dual-functional glioma targeting delivery of doxorubicin based on the PAMAMG5 dendrimer, modified with folic acid (FA) to target tumor cell, alsoborneol(BO), a well known safe material derived from traditional Chinese medicine, to facilitate the BBB permeability and reduce the toxicity of naked PAMAM. The intracranial transportation and glioma targeting ability were evaluated on the BBB model and C6 glioma cells in vitro. Also, pharmacokinetics and biodistribution were studied on C6 glioma-bearing rats in vivo. It indeed reduced the cytotoxicity of PAMAM against both HBMEC and C6 cells by coupling BO on the surface, while efficiently boosted BBB permeability with the improvement of transportation ratio by 2 folds to the BO-unmodified conjugates. Furthermore, conjugated FA increased total uptake amount by C6 cells leading to strong inhibition with the 3-fold lower IC50 value than FA-unmodified DOX conjugate. In comparison with DOX solution, FA-BO-PAMAM/DOX exhibited significantly prolonged half-life time and increased area under the curve and improved DOX accumulation in brain tumor. The tumor growth inhibition, in vivo, was significantly increased up to 57.4%. The median survival time of xenograft rats after administering FA-BO-PAMAM/DOX (28 days) was significantly prolonged compared to free DOX (18 days, P < 0.05) or other controls. In conclusion, this strategy of novel targeting nanocarrier provides apromising method to increase the drug accumulation in the tumor site for therapy of glioma.
Chinese Academy of Sciences, China
Time : 13:00-13:20

Biography:
Zaheer Ahmad completed his PhD at Quaid-I-Azam University Islamabad, Pakistan in 2016. He performed most of his PhD research abroad at University of Alberta, Canada (under the supervision of Professor Mike Serpe) and Changchun Institute of Applied Chemistry (under the supervision of Professor Xuesi Chen). His research interest focuses on "Development of pH and hypoxia responsive poly amino acid based nanocarriers and its in vitro and in vivo investigation using breast cancer mice xenograft model. He published about seven peer-reviewed papers in international journals such as Journal of Controlled Release, RSC Advances and Macromolecular Biosciences.
Abstract:
Tumor micro environment-targeted nano drug delivery vehicles are gaining mounting attention in the field of biomedical sciences. The hypoxic response of the tumorous cells due to very low partial pressure of oxygen (sometimes less than 2.5 mm of Hg) in the tumor tissues makes hypoxia responsive drug delivery system as the more appealing in cancer chemotherapy. Based on these considerations, we synthesized hypoxia responsive polymeric materials methoxy poly(ethylene glycol)-block-poly(glutamic acid)-graft-6-(2-nitroimidazole) hexyl amine (mPEG-b-PLG-g-NID) by conjugation of the hydrophobic nitroimidazole derivative (NID) [6-(2-nitroimidazole) hexyl amine] with the pendant carboxylic group of poly(ethylene glycol)-block-poly(L-glutamic acid) (mPEG-b-PLG). The structure and degree of substitution were confirmed by proton NMR, FTIR and UV-Vis spectroscopy. The degree of substitution was found to enhance with the increase in nitroimidazole derivative to polymer ratio. The hypoxia response of the material was evaluated by UV-Vis spectroscopy and zeta potential measurements. Doxorubicin was hydrophobically encapsulated in the micellar core of the hypoxia responsive nanoparticles. The drug loaded micelles showed faster release in hypoxic condition as compared to normoxic conditions. Moreover, the developed polymeric system was found non-toxic to MCF-7 cell line thus suggesting its biocompatibility and suitability as drug delivery device.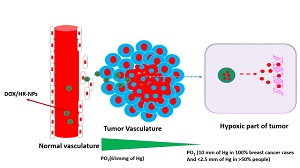 Break:
Lunch Break 13:20-14:00 @ W5 Grill Restaurant