Nanotechnology in Drug Delivery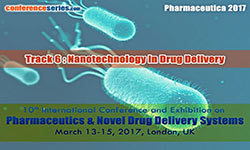 Submit Abstract
Register Now
Nanotechnology has finally and firmly entered the realm of drug delivery. Performances of intelligent drug delivery systems are continuously improved with the purpose to maximize therapeutic activity and to minimize undesirable side-effects. There are multiple Applications of Nanotechnology in Drug Delivery systems are based on micelles, polymeric nanoparticles, and dendrimers. Polymeric carbon nanotubes and many others demonstrate a broad variety of useful properties. The following dosage forms using Nanotechnology in Drug Delivery Systems are Liposomes as potential drug carrier systems for drug delivery and project Pharmaceutica 2016 to pose as a liposome event during the conference , Techniques for the preparation of solid lipid nano and microparticles, Nanoemulsions applications, Nanoparticle based Drug Delivery Systems for Treatment of Infectious Diseases, Dermal, Transdermal Drug Delivery, Insulin Drug Delivery and Organic Nanotubes as a Promising Vehicles for Drug Delivery. NDDS conference will discuss on the Current Status and Future Scope for Nanomaterials in Drug Delivery and reflect on pharmaceutical technology conference. Interestingly pharmaceutical sciences are also using nanoparticles to reduce toxicity and side effects of drugs. The potential to cross the Blood Brain Barrier (BBB) has open new ways for drug delivery into the brain. In addition, the nanosize also allows for access into the cell and various cellular compartments including the nucleus. Nanoparticles are also considered to have the potential as novel intravascular or cellular probes for both diagnostic and therapeutic purposes (drug/gene delivery), which is expected to generate innovations and play a critical role in medicine.
Key players in the market include Amgen, Inc., AstraZeneca plc, Eli Lilly & Co., Ipsen S.A., Merck & Co., Novartis AG, Novo Nordisk A/S, Roche Holdings AG, Sanofi, Takeda Pharmaceutical Company Limited, and Teva Pharmaceutical Industries Limited. Leading API manufacturers include Bachem Holding AG, PolyPeptide Group, Peptisyntha Inc. and Lonza Inc.
The global market for blood-brain barrier (BBB) technology for therapeutics reached $21.8 million in 2013. This market is expected to grow from $38.7 million in 2014 to $471.5 million in 2019, a compound annual growth rate (CAGR) of 64.9% from 2014 through 2019.
Controlled Drug Delivery
Transdermal Drug Delivery
Dermal Drug Delivery
Antimicrobial nanoemulsions
Cancer therapy
Treatment of other diseases
Oral delivery of poorly soluble drugs
Related Conference of
Nanotechnology in Drug Delivery
Nanotechnology in Drug Delivery
Conference Speakers
Recommended
Sessions
Related
Journals
Are you
interested

in